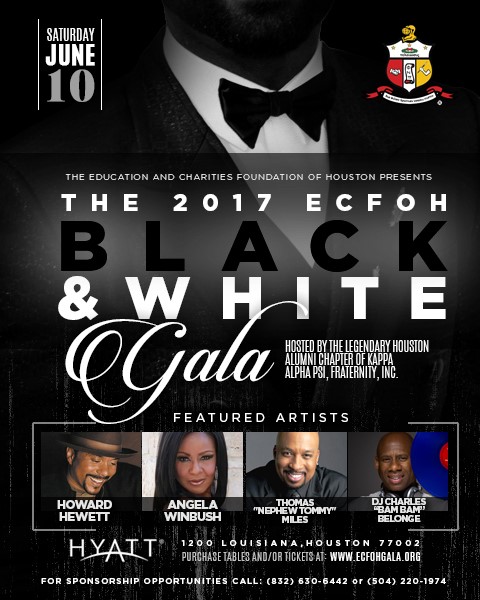 For those attending the this Saturday, we thank you for being our guest at the 2017 ECFOH Black & White Gala hosted by the Houston (TX) Alumni Chapter of Kappa Alpha Psi.
Be prepared for a night filled with entertainment and purpose. As you know the gala is being held downtown at the Hyatt Regency Houston located on 1200 Louisiana Street. You have options to valet or self park. From the valet entrance you will be treated to a Red Carpet entrance and proceed to the registration table in the lobby. Give your complete names and/or the name of the table host. You will get further instructions on where to proceed from there.
REMEMBER: You MUST be dressed ONLY in any form of black, white, or black & white as this is a formal black tie event. You will not be allowed entrance otherwise.
The pre-gala reception starts at 6pm.
Doors to the gala will open at 7:15pm
Gala starts at 8:00pm sharp.
If you plan on staying at the hotel, call or make reservations online, give code XKAP. We look forward to seeing you Saturday night. Thank you for your continued support of ECFOH.